Welcome to July! Here is this week's schedule: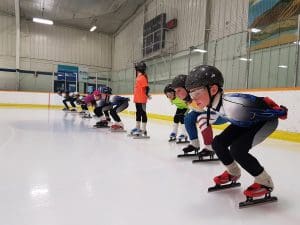 Dryland: Wednesday (at the Kamloops School of the Arts field)
6pm for younger skaters, 6:30pm for middle/older skaters (check with Coach Sandi to see where your skaters fit in!)
Thursday 6pm: Inline skating (for older skaters)
Skate Fittings:
Please take note that an additional skate fitting session will be held during Big Guy Inline this Thursday, July 4th. Please meet at the equipment room. If you can't make it, please see Shawn or Jodi during an upcoming Monday Inline session.
Summer Ice Schedule:
July 5, 2019: 4:30-6:30 pm For ALL skaters! Please show up ready for dryland at 3:45.
July 12, 2019: 4:30-6:30 pm
July 16, 2019: 1:00-2:00 pm – Roadrunners and up.
Aug 6, 2019: 4:30-6:00 pm
Have a great week, skaters!