Good luck to Cam and Sylvie as they compete at the CanAm Long Track Competition in Calgary this weekend!
---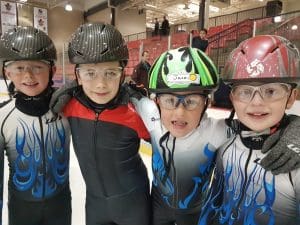 Important Dates:
November 11, 2019: NO PRACTICE
November 28, 2019: Blade Buddies/Fast Friends cancelled, Cheetahs practice 6:30-7:30pm
December 5, 2019: Blade Buddies/Fast Friends cancelled, Cheetahs practice 6:30-7:30pm
---
Bottle Drive: November 9th in Rayleigh. Please email billandg@shaw.ca or phone Gail 250 682 9448 if you are available to help out!
Please meet at Gail's house (395 Armour place) at 9am phone 250 682 9448. Please dress warm, mittens etc.  Bring/borrow trucks and trailers.  If you are able bring boxes from liquor store for glass.  Bring any bottles you have at home please. Bring baking for kids. Hot dogs and juice will be provided at approximately 1:30pm.
---
Equipment:
Please remember to sharpen your skater's skates regularly – this means every couple of weeks at a minimum, more frequently for skaters that skate 3-4 times a week. It is not safe nor is it fun to skate on dull blades!
---
Competitions:
The online calendar listing the competitions available for your skater can be found here: BCSSA Events & Results
Please remember to hand in your registration forms or send an email to Alana BEFORE the deadline listed. Deadlines for competitions will be listed here (once registration information is available) and in any emails sent out.  Plenty of notice is given out with enough time to register. Absolutely NO LATE ENTRIES will be accepted, NO EXCEPTIONS.
Upcoming competitions: 
Kelowna Cup – December 7, 2019 (Registration form not available at this time, will be uploaded and sent out as soon as it is!)
BC Cup #2 – Richmond – December 14, 2019
BC Cup #2 is the second of two qualifiers for BC Short Track Championships. If your skater is a:
female, at least 8 years old as of July 1, 2019
male, at least 9 years old as of July 1, 2019
hoping to secure a spot at BC Short Track Championships (March 14-15 in Abbotsford)
….then you need to please print out and sign the following TWO forms and hand them in by Monday, December 2nd (no exceptions, as Alana needs to scan all of the forms into one document):
BC Cup (Long Track) – Prince George: January 11, 2020
BC Long Track Championships – Fort St John: January 25-26, 2020 – We have secured group transportation with a bus! Please send an email to kamloopslongblades@gmail.com if you are interested!
Coyote Cup (Kamloops) – February 1, 2020
BC Short Track Championships – Abbotsford: March 14-15, 2020
---
Fundraising:
Gail has 100 Panago pizza fundraiser cards $12 each to buy or sell! Please see her at practice before they are all gone!
Fundraising is vital to our program. In order to ensure that we continue to offer a high-quality
program, the Kamloops Long Blades has adopted the following fundraising model: KLB Fundraising Agreement 2019-2020
Do you have an idea for a fundraising activity? Send an email to kamloopslongblades@gmail.com!